In this month's alert
Alcohol Alert 2022: The Year in Review
Once again, over the year we have seen many ups and downs in the world of alcohol research and policy, alongside some interesting moments in the Government.
The doomed 'mini budget' of Liz Truss, and the subsequent reversal of almost all of the fiscal policies in it, led to a rather confused state regarding whether alcohol duty was being increased or not, and by how much if so. The latest decision this week to freeze alcohol duty until August 2023 brings us full circle back to the mini budget's announcement, and is around a 10% cut in real terms. Additionally, there have been warnings that the fiscal 'black hole' created by the budget will mean a return to austerity and we should expect further damage to the public's health and increases in health inequality.
In related news, figures from the ONS in early December showed that a record number of people died from alcohol-specific causes in 2021, with a 27% rise on 2019 figures. This is likely due to changes in drinking patterns during the pandemic, which have sadly continued. We published a widely covered report in July from our NIHR-funded study, which shows how deaths and disease from alcohol are likely to continue to increase due to these changing patterns, unless effective policies are implemented soon.
In more positive news, we are delighted to welcome back our chief executive, Dr Katherine Severi, from maternity leave. We are also really pleased to announce that Dr Peter Rice is our new chair, and we wish to thank Michael Carr for almost a decade in the position. Here is what they had to say:
Please read on for a roundup of the rest of 2022.
January – Ireland introduces minimum unit pricing
The year began with Ireland introducing minimum unit pricing of alcohol (MUP) and the World Heart Federation strongly rebuking the "myth" that alcohol prolongs life. Meanwhile a research paper showed that many schools use educational materials on alcohol harm supplied by industry-funded sources.
February – Sugar content in wine bottles ranges from 0 to 15 teaspoons of sugar
Research by the Alcohol Health Alliance found that the UK's most popular wines contain a huge range of sugar, with the highest being enough to reach your recommended daily limit. The London School of Economics found that the alcohol industry has influence over the World Trade Organization (WTO), with WTO members consistently using industry arguments to stall alcohol policy.
March – UK Government's "dismal record" in meeting 2012 Alcohol Strategy initiatives
A decade on from the 2012 Alcohol Strategy, public health actors and politicians drew attention to government inertia over the last 10 years, with the majority of planned initiatives being scrapped or barely implemented. The World Health Organization (WHO) Europe office consulted on the draft of a new Framework to strengthen implementation of its alcohol Action Plan.
April – Ban on drinking during football matches may be overturned after nearly 40 years
The UK Government announced that it accepted or supported all ten of the strategic recommendations of the Fan Led Review of Football Governance, one of which was to pilot the sale of alcohol in sight of football pitches in lower leagues. 'Sobriety tags' were rolled out further, despite no evidence of a reduction in alcohol-related offending, and councils to receive £85.7 million from the Drug Strategy.
May – Policy incoherence from the WHO
A comprehensive report from the WHO highlighted the increasing use of sophisticated cross-border online marketing techniques for alcohol and the need for more effective regulation. At the same time, a commentary in the BMJ highlighted that the WHO Foundation does not reject alcohol industry donations and funding.
June – Alcohol labelling still fails consumers
A study found that just 20% of alcohol products provide a full list of ingredients, a third do not have the up-to-date low risk drinking guidelines, and only 6% show sugar content. Alcohol Focus Scotland published an extensive report on alcohol marketing regulation, in anticipation of the Scottish Government's alcohol marketing consultation, and the University of Sheffield found "no clear evidence" that MUP reduces harmful drinking.
July – Shift in England's drinking during COVID-19 could lead to 150,000 more cases of disease by 2035
A new IAS and HealthLumen modelling study funded by NIHR found that changes in alcohol consumption during the pandemic are likely to lead to thousands of additional cases of diseases and premature deaths. A Global Burden of Disease study came to the controversial conclusions that young people should not drink and older people may benefit from small amounts of alcohol. And the Health Disparities White Paper is delayed.
August – Alcohol-specific deaths in Scotland continue to rise
Alcohol deaths in Scotland were found to have risen by 5% from 2020 to 2021, on top of the 17% rise from 2019 to 2020. A La Trobe study estimated that alcohol harm costs Australia $20 billion a year, with bystanders bearing 90% of the costs. And 'Sake Viva' – Japan's controversial drive to get younger generations to drink more.
September – Government freezes alcohol duty in its 'mini budget'
The UK Government published its doomed 'mini budget', which included a freeze on alcohol duty, which would have cost the Treasury £600m. An IAS study found that the gambling industry uses the same arguments and framings of harm as the alcohol industry, and Canada reduces its low risk drinking guidelines due to cancer risk.
October – New Chancellor reverses the freeze on alcohol duty (but not for long)
Following Liz Truss and Kwasi Kwarteng being forced to resign due to the financial turmoil of their 'mini budget', new Chancellor Jeremy Hunt reverses almost all policies and announces that alcohol duty will increase. Professor Michael Marmot warns that Hunt's economic approach may mean a cut to public spending and increases in health inequalities. And alcohol to replace junk food in store fronts after HFSS restrictions.
November – Alcohol's impact on a sustainable future
A new IAS study highlights the negative impact alcohol has on sustainable development, the environment, and human rights. Scotland launches a consultation to restrict alcohol advertising and promotion. Glasgow University finds that Scotland's MUP policy has been effective in reducing alcohol consumption, and the proposed extension to licensing in Ireland is branded "regressive and harmful".
---
Thank for subscribing to the Alcohol Alert, and we look forward to providing you with more roundups of alcohol research and policy in 2023!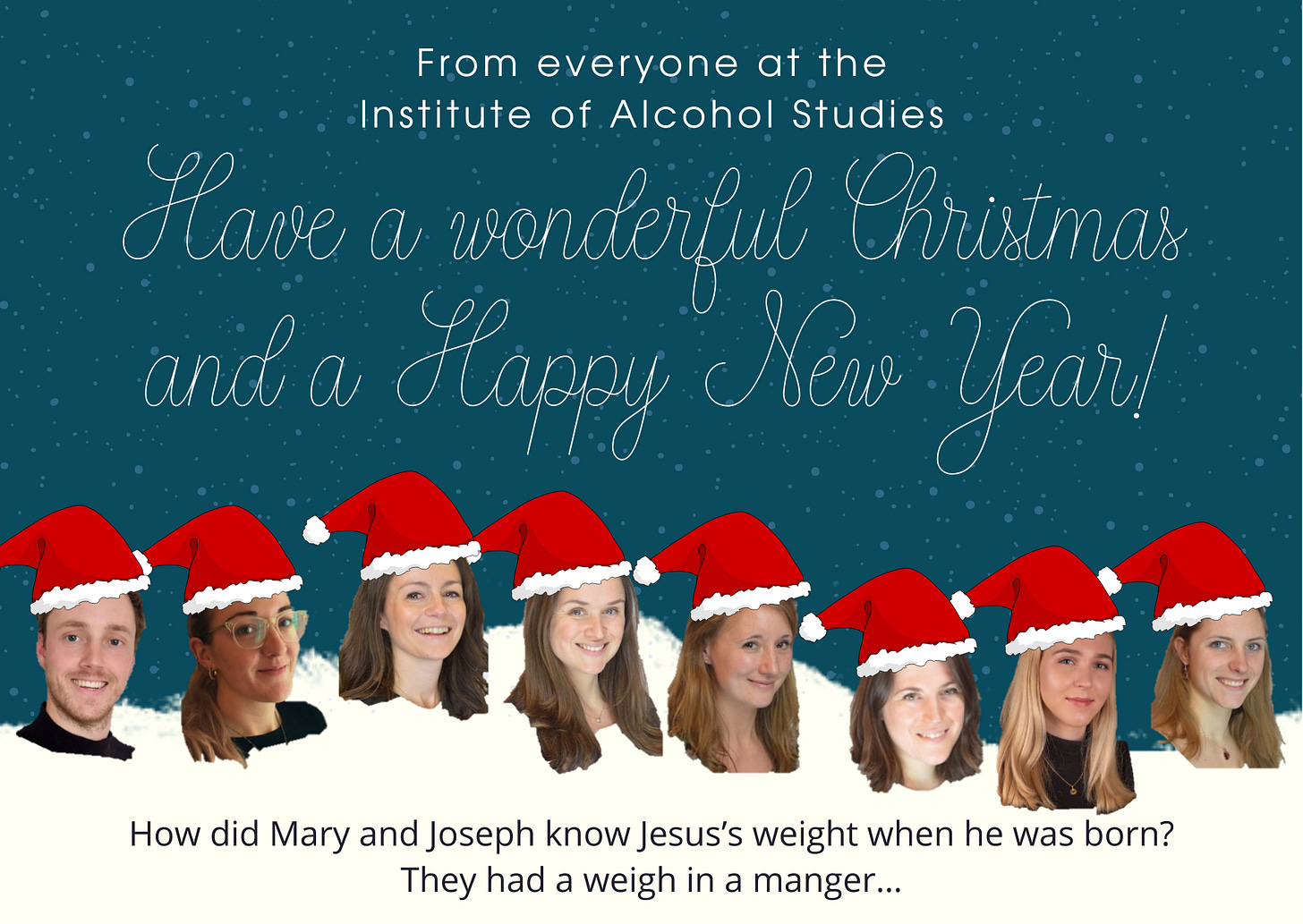 Podcast
Our monthly podcast features interviews with experts from across the sector.
Dr Aalaa Jawad – Public Health Registrar
Susan Taylor – Head of Alcohol Policy, Balance