In this month's alert
Alcohol industry bands together to criticise Scotland's marketing proposals Podcast feature
On this month's podcast, we spoke to Nicola Merrin, Policy and Research Manager at Alcohol Focus Scotland. We discussed the proposals within Scotland's alcohol marketing consultation, how Nicola Sturgeon's resignation could affect the proposals, and tactics the alcohol industry are using to fight against the proposals.
In the news
Criticism of Scotland's consultation on restricting alcohol marketing and promotion by the alcohol industry and groups linked to the industry have inundated the media in Scotland and over the border.
A group of trade organisations weighed into the debate on 21 February, including the Scotch Whisky Association, Wine and Spirits Trade Association, and Scottish Retail Consortium. The group said that the restrictions will cause significant harm to Scotland's businesses and push up prices for consumers. In a joint letter, the group argued that:
"There is no specific evidence which shows that restricting the ability to promote and responsibly market products, including low and no alcohol products, in store, will lead to a reduction in alcohol sales or alcohol consumption."
They also highlighted the additional costs associated with moving alcohol into more inconspicuous places in stores.
There is evidence that end-of-aisle displays have a large impact on the sales of alcohol and that placement of products in stores could be an effective control policy.
Scotland's biggest music promoter, DR Concerts, warned that the restrictions would harm the economy, Scottish artists, and businesses, and that "the root causes of addiction problems are what the government should be focusing on, such as poverty and other societal factors".
The Scottish Newspaper Society (SNS) also took aim at the plans, saying they would "cripple" local newspapers. They surveyed Scottish news publishers, with respondents voicing concerns about: loss of revenue; the threat to drinks writers; the potential to lead to UK-wide publishers to produce Scotland-only editions; the threat to wine club features; and threat to the Scottish Press Awards, which is sponsored by Diageo.
SNS director John McLellan said:
"The consultation paper produces no concrete evidence to prove the extent of the effect of advertising in news brands on children or people suffering addiction issues, yet the clear intention is to knock this leg from under our businesses and cripple them in the process."
Despite the criticisms, new research on 9 February stated that "the economic case against policies to reduce alcohol harm is weak". The Social Market Foundation published the report Getting in the spirit? Alcohol and the Scottish economy, which looked at the economic contribution of alcohol production in Scotland, and how a reduction in consumption would affect it. They found that a reduction in consumption would be unlikely to impact the Scottish economy and, that what matters more, is demand for Scottish alcohol in other countries.
The report found: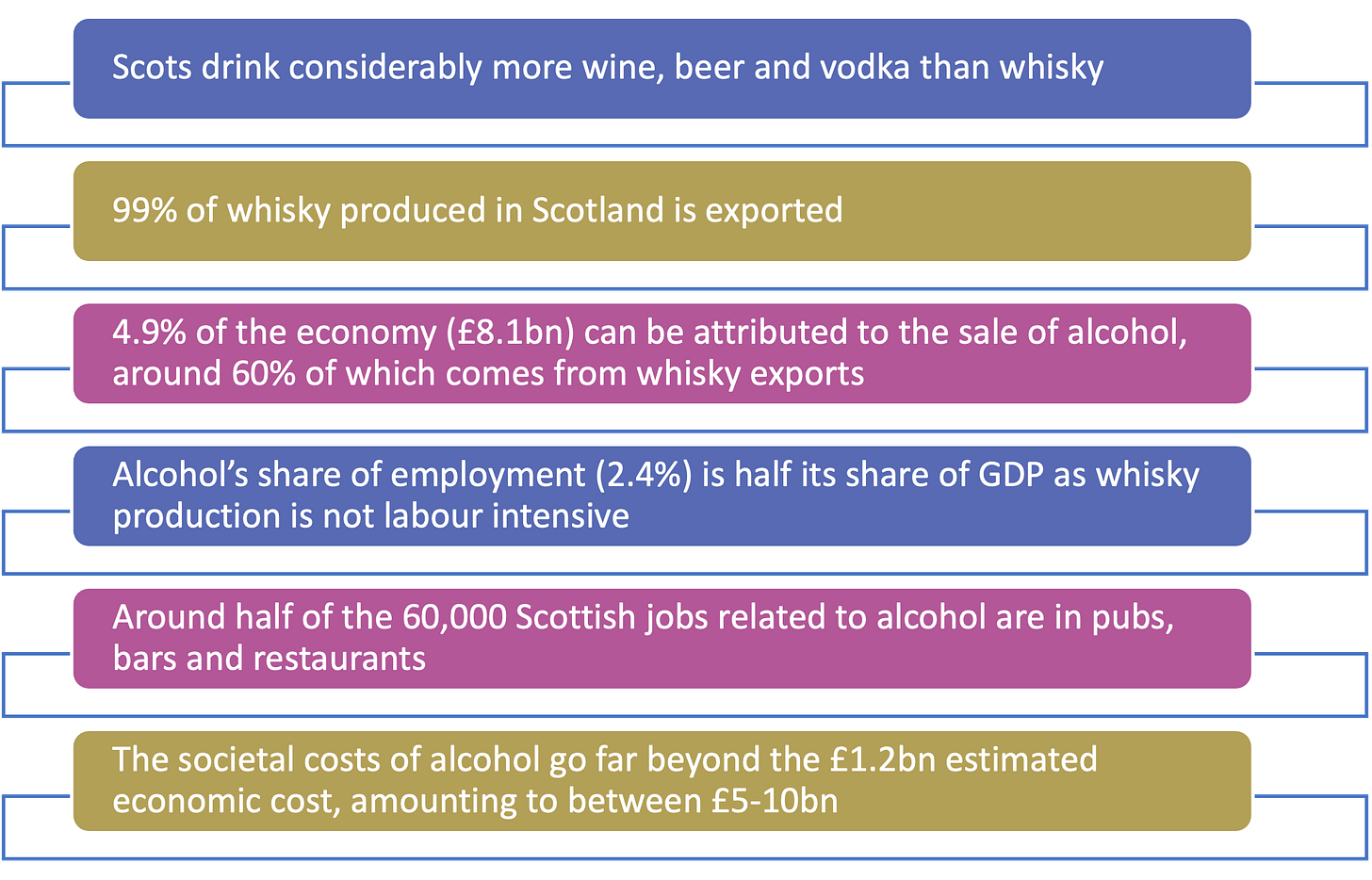 The report author, Dr Aveek Bhattacharya said:
"Further regulation on alcohol in Scotland may be contentious, but the economic case against policies to reduce alcohol harm is weak.

"Good public policy needs to be founded in realism – recognising the Scotland that actually exists, a place of vodka drinkers and chronic public health problems. Changing that won't hurt the economy, but it might save some lives."
Read Dr Bhattacharya's blog for a summary of the report.
At the beginning of February, a poll of Scottish Football Supporters Association members found that 64% agreed that Scottish football's reliance on alcohol industry sponsorship is a "bad thing".
In a press conference, First Minister Nicola Sturgeon said that no one is telling people not to drink at all:
"It is about responsible consumption of alcohol and there is evidence that advertising that glamourises alcohol can lead to overconsumption.

"This is not about doing economic damage to the alcohol industry – it is about making sure we're taking responsible steps to protect public health."
According to the Scottish Mail, Kate Forbes MSP – one of the contenders to replace Sturgeon as First Minister – has said she would block the marketing restrictions as she fears they would "undermine one of Scotland's greatest exports, namely whisky".
Treatment funding from the Drug Strategy announced
The Department of Health and Social Care (DHSC) announced £421 million of funding on 16 February. The money will go to local authorities to improve drug and alcohol treatment and recovery services.
The Government press release states that this means funding for treatment will have increased by 40% from 2020/21 and 2024/25, and: "It will enable the creation of over 50,000 high-quality places in drug and alcohol treatment".
Over the past decade, the Government moved commissioning responsibility to the local level, while cutting local government funding in real terms, with a 37% reduction as part of austerity measures. The period also saw a 60% increase in drug-related deaths.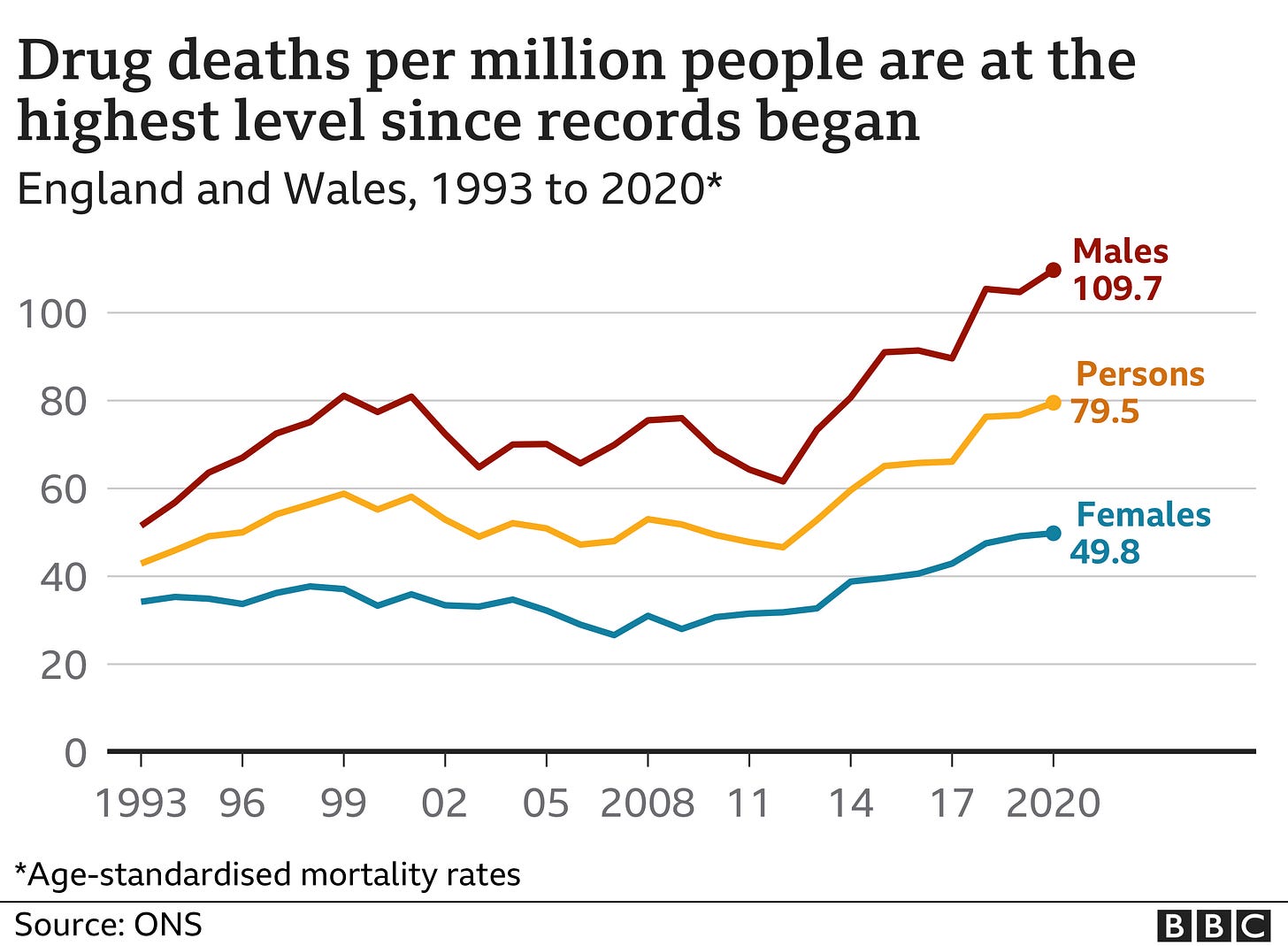 The funding comes as a result of the Dame Carol Black independent review of drugs and the subsequent Drug Strategy.
Health Minister Neil O'Brien said:
"This funding will help improve the quality and capacity of drug and alcohol recovery services right across the country, helping more people access the support they need, saving lives and benefitting communities."
DHSC also announced a £53 million fund to improve housing support for people in drug and alcohol recovery. The release stated:
"People in treatment for drug and alcohol dependence are often easier to support if their housing needs are addressed at the same time, as there is a strong link between having a stable home and improved treatment outcomes."
Dame Carol Black said she is pleased with the funding:
"Learning from these areas will inform and drive forward the 10-Year Drugs Strategy, making the case for safe and supportive housing in recovery from addiction."
The Budget provides an opportunity to tackle the rising affordability of alcohol
The Spring Budget will be announced on 15 March. IAS submitted its Budget representation, which highlighted the following:
One of the points the submission makes is that freezing and cutting alcohol duty over the last decade has disproportionately benefitted supermarket alcohol sales compared to pubs, bars and restaurants. This has helped them maintain much cheaper prices than the on-trade. Therefore, despite the Government stating freezing duty is to help pubs, it could well be hindering them instead.
The submission states that:
"Overall, there is good evidence that alcohol duty can be increased in spring Budget 2023 to reverse the increasing trend of alcohol harm without negatively affecting the economy or the hospitality sector."
In related news, 46 leading health experts, including members of the Alcohol Health Alliance, academics, and parliamentarians, wrote to the Chancellor urging him to increase alcohol duty when the current freeze ends in August.
The letter explains how reducing affordability is one of the most cost-effective ways to reduce alcohol harm, and that alcohol duty can raise much-needed revenue.
Professor Sir Ian Gilmore, chair of the AHA, said:
"The Alcohol Health Alliance along with other health experts are calling on the Chancellor to act now to save lives. As former Health Secretary I'm sure he will appreciate the damage alcohol harm does to communities, frontline services and the economy. Since 2019 we have seen a 27% rise in deaths from alcohol and over 1 million hospital admissions a year. These record-breaking rates of harm cannot be ignored any longer."
A healthy diet and not drinking slows memory decline
A decade-long study by the National Center for Neurological Disorders in Beijing has found that avoiding alcohol reduces dementia risk.
The researchers looked at a healthy lifestyle score which combined six factors: healthy diet, regular exercise, active social contact, cognitive activity such as reading and writing, non-smoking and never drinking alcohol.
After taking into account other health, economic and social factors, the researchers found that each individual healthy behaviour was associated with a slower than average decline in memory over 10 years.
The BMJ's infographic gives a summary of the study: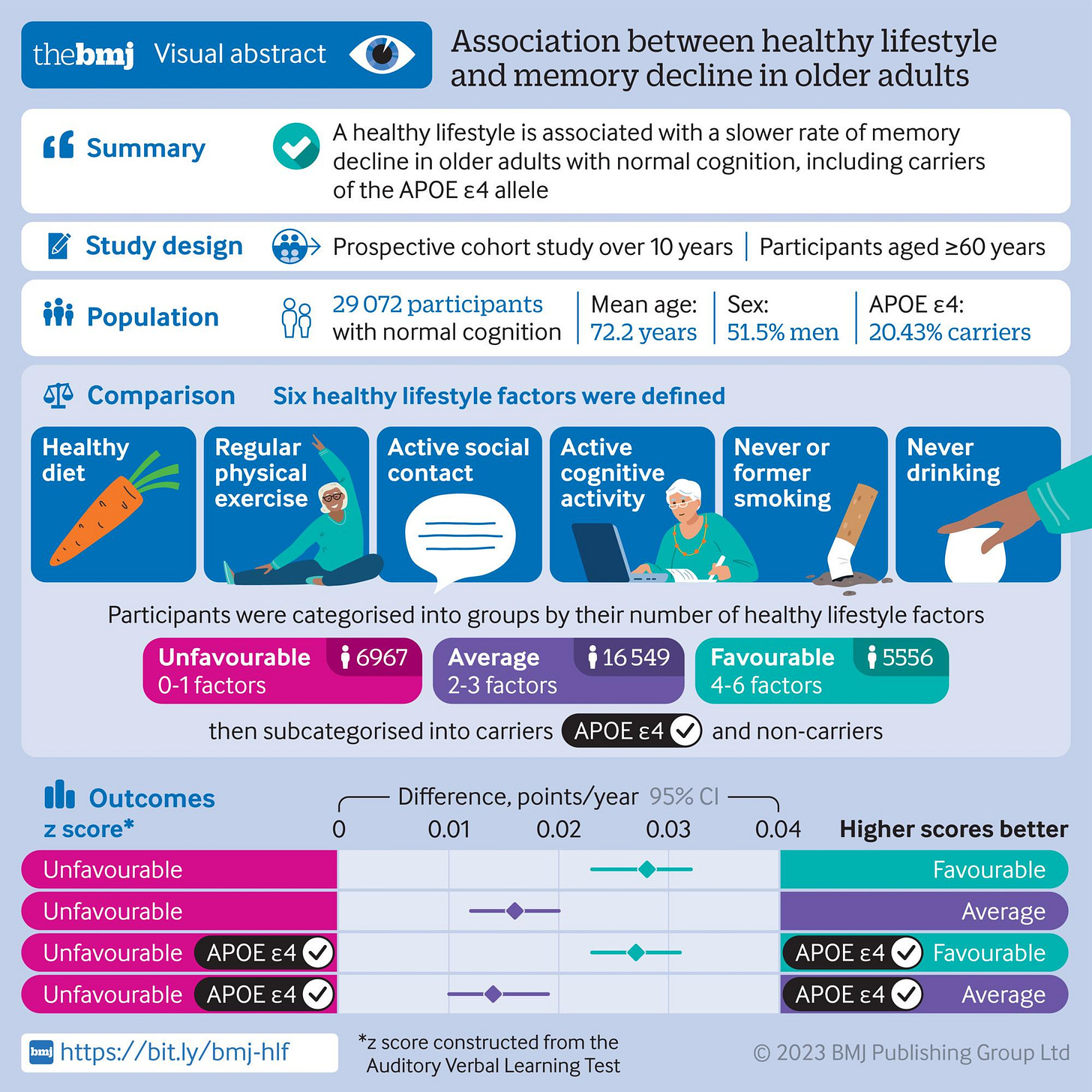 Study lead author Professor Jianping Jia said:
"A healthy diet had the strongest effect on slowing memory decline, followed by cognitive activity and then physical exercise. (BMJ)

"Previous studies demonstrated that the risk of all-cause mortality rises with increasing levels of alcohol consumption, and the level of consumption that minimises health loss is zero. Thus, for old adults, avoiding alcohol may be a good choice for preventing memory decline." (IAS blog)
Minimum unit pricing has 'minimal' impact on alcohol industry
A new report by Frontier Economics – commissioned by Public Health Scotland – has found that minimum unit pricing had no significant economic harm to the alcohol industry.
The performance of the industry was measured against: the number of firms, employment, turnover, output value and Gross Value Added (GVA).
The study suggests that post-MUP, industry performance was "characterised by lower volumes of sales but higher prices". The summary states that this is consistent with other studies which suggest the value of spending on alcoholic products rose quicker in Scotland post-MUP than in England and Wales.
In this Twitter thread, Dr Aveek Bhattacharya points out that the report also didn't find any evidence of benefit or damage to the on-trade from MUP:
"This isn't obvious – while drinks in pubs sell for far more than the 50p/unit floor price, it is possible that raising the relative price of supermarket drinks might push people towards pubs. In fact, that was quite a convenient argument for those of us arguing for MUP to make."
Dr Alastair MacGilchrist of SHAAP said the report showed fears of an impact on the industry were "unfounded".
"There are many similarities between the alarmist debate now on plans to restrict alcohol marketing and those concerns aired when minimum unit pricing was introduced."
Alcohol Focus Scotland argued that the report "gives the lie" to industry claims that the policy would lead to job losses for companies supplying own-label or value brands.
The Scotch Whisky Association, which mounted a legal challenge to the law, said the research was one part of an "overall evaluation", and it would await its completion before drawing any conclusions. They added:
"We continue to work in partnership with a range of stakeholders to promote responsible drinking and to tackle alcohol-related harm."
In similar news, a systematic review on the impact of MUP on alcohol-related hospital outcomes found a 'moderate-to-strong' causal link that the policy could reduce alcohol-related hospitalisations.
It found that the majority of real-world studies demonstrated that acute alcohol-related admissions responded immediately to MUP and reduced by 2%–9%. Chronic alcohol-related admissions lagged by 2–3 years and reduced by 4%–9% annually.
Only 20% of UK public know the drinking guidelines
A research paper in Alcohol and Alcoholism published on 08 February looked at the UK public's awareness of the drinking guidelines.
It found the following:
The authors state that:
"Six years since their announcement, knowledge of the revised drinking guidelines remains poor. These data suggest passive dissemination of guidelines remains a weak implementation approach.

"Additional interventions targeted at or tailored for disadvantaged groups may be required to address this disparity."
46% of children of alcohol-dependent parents keep it secret
Nacoa – the National Association for Children of Alcoholics – released statistics during Children of Alcoholics Week, that show that almost half of children of alcohol-dependent parents have not told anyone outside their family.
A quarter have not told anybody at all, including close family members.
In The Telegraph, Associate Editor Camilla Tominey wrote that despite the 27% rise in alcohol deaths from 2019-2021, the Government has cut a £6 million funding package which specifically supports the children of dependent parents.
Shadow Work and Pensions Secretary, Jonathan Ashworth, whose father died due to alcohol, said:
"While funding for those in recovery is of course welcome, there is no money to help children whose parents are not undergoing treatment. The Government is putting money into addiction services, but that's not getting to the children who are suffering in silence. By cutting their funding, they are condemning a generation of vulnerable children to a life of misery."
Funding will be available to children whose parents are in treatment. However, only 18% of dependent drinkers are in treatment, leaving the children of the remaining 82% unsupported.
A DHSC spokesman said:
"Since the Children of Alcohol Dependent Parents programme ended, the Government has launched the 2021 drug strategy, which is boosting funding for local authority drug and alcohol services by £421 million by 2025."

"Local authorities will have the opportunity to invest some of that additional funding supporting children affected by their parents drinking and drug use, drawing on the lessons from our earlier work."
In response, Nacoa tweeted that DHSC's response was "extremely disappointing…They know that that means support only for those whose parents are in treatment and a postcode lottery at that."
Clinicians who drink regularly are less likely to screen for alcohol
A systematic review has found a statistically significant association between clinicians' alcohol consumption and their preventive practices to reduce harmful alcohol use.
The study found that:
The authors do conclude that the results should be taken with caution, as the quality of the studies included were poor/fair. However, they state that:
"These data are sufficient to suggest that clinicians' drinking should be addressed as part of efforts to implement preventive care measures for un- healthy alcohol use."
Alcohol Toolkit Study: update
The monthly data collected is from English households and began in March 2014. Each month involves a new representative sample of approximately 1,700 adults aged 16 and over.
See more data on the project website here.
Prevalence of increasing and higher risk drinking (AUDIT-C)
Increasing and higher risk drinking defined as those scoring >4 AUDIT-C. A-C1: Professional to clerical occupation C2-E: Manual occupation
Currently trying to restrict consumption
A-C1: Professional to clerical occupation C2-E: Manual occupation; Question: Are you currently trying to restrict your alcohol consumption e.g. by drinking less, choosing lower strength alcohol or using smaller glasses? Are you currently trying to restrict your alcohol consumption e.g. by drinking less, choosing lower strength alcohol or using smaller glasses?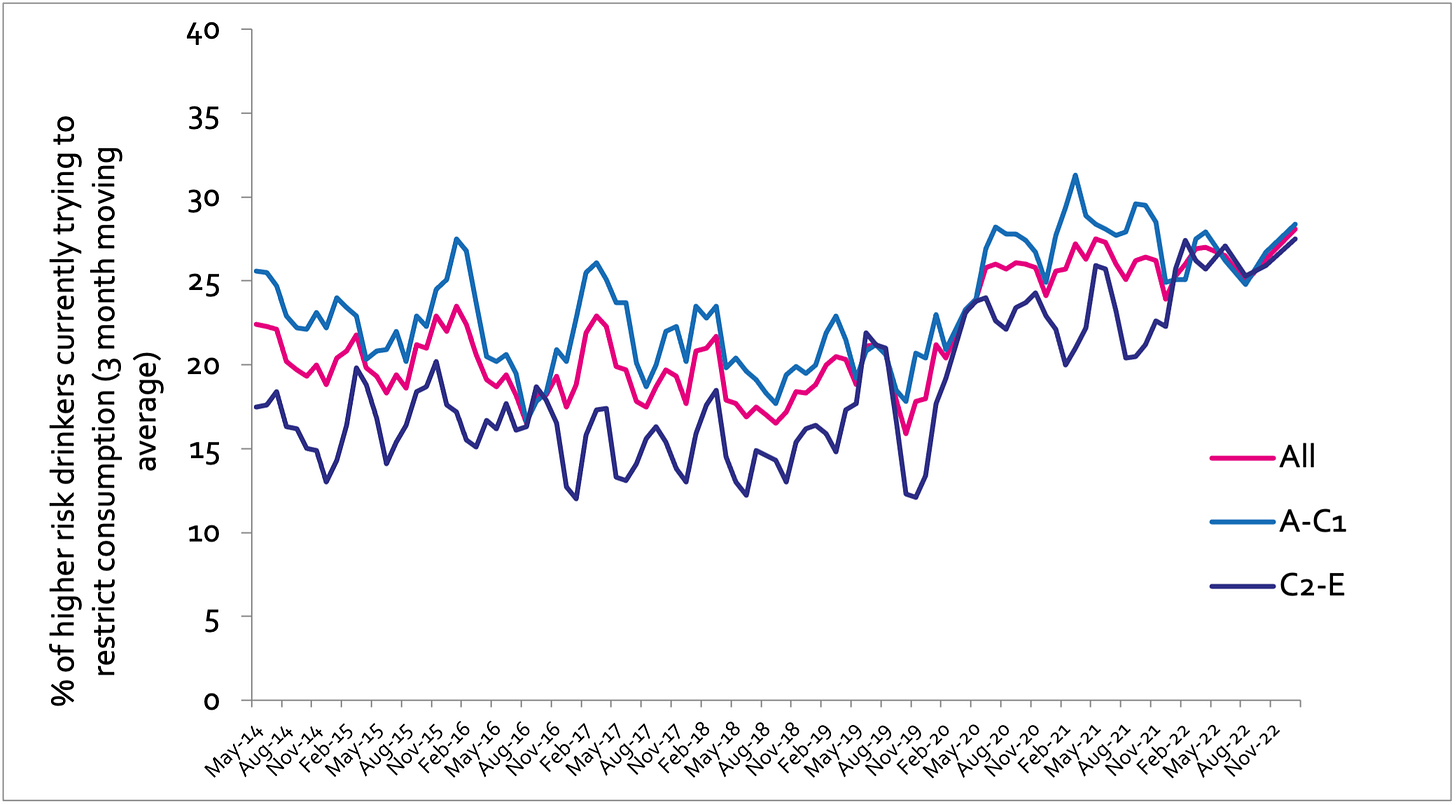 Serious past-year attempts to cut down or stop
Question 1: How many attempts to restrict your alcohol consumption have you made in the last 12 months (e.g. by drinking less, choosing lower strength alcohol or using smaller glasses)? Please include all attempts you have made in the last 12 months, whether or not they were successful, AND any attempt that you are currently making. Q2: During your most recent attempt to restrict your alcohol consumption, was it a serious attempt to cut down on your drinking permanently? A-C1: Professional to clerical occupation C2-E: Manual occupation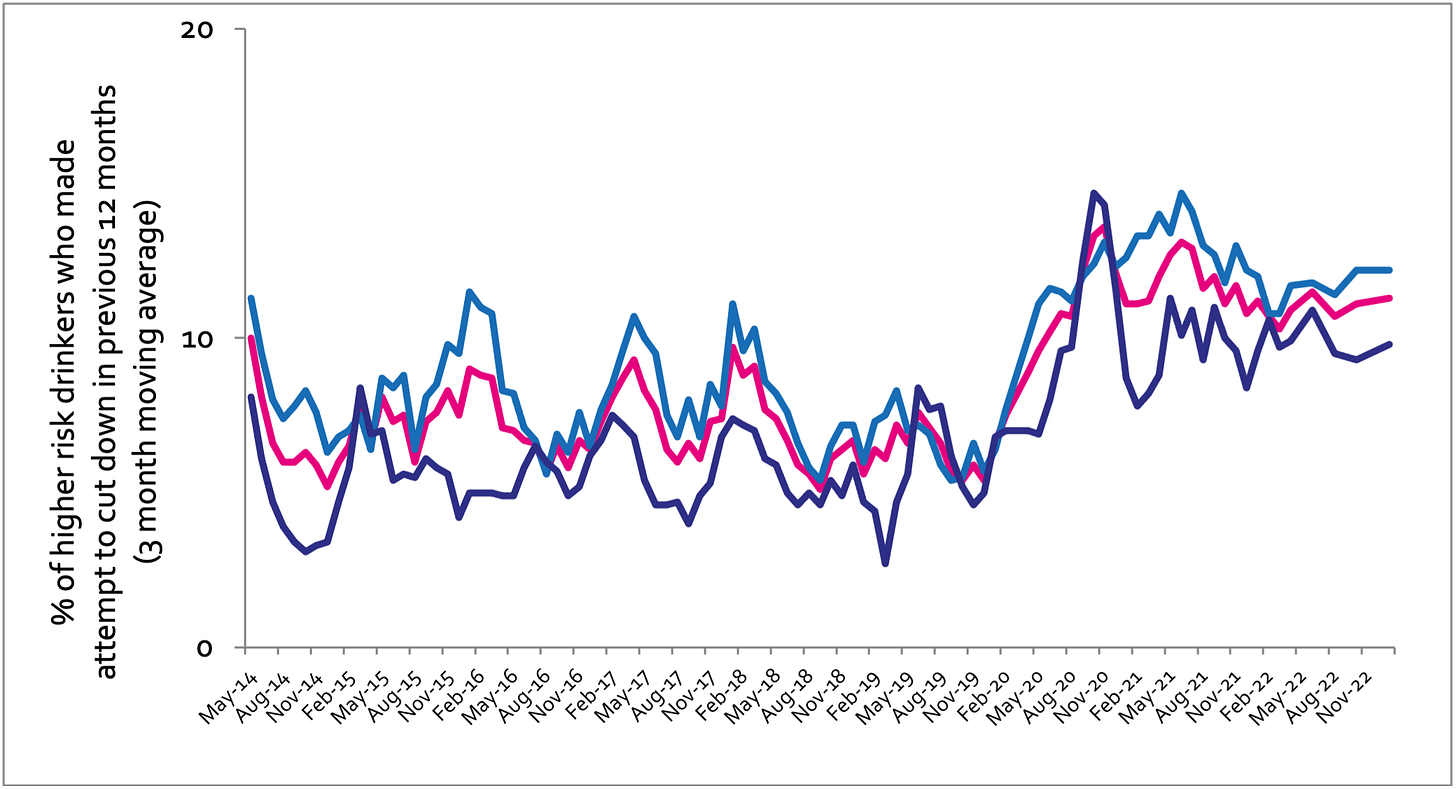 Podcast
Our monthly podcast features interviews with experts from across the sector.
Dr Aalaa Jawad – Public Health Registrar
Susan Taylor – Head of Alcohol Policy, Balance