In this month's alert
Our strategy: Alcohol and inequalities Podcast feature
We will soon publish our three-year strategy, 2023-2026, which will focus on alcohol and inequalities.
On the podcast this month, we are joined by our chief executive, Dr Katherine Severi, to discuss her proudest moments of the last three years, why we are focusing on inequalities, and what she's most looking forward to.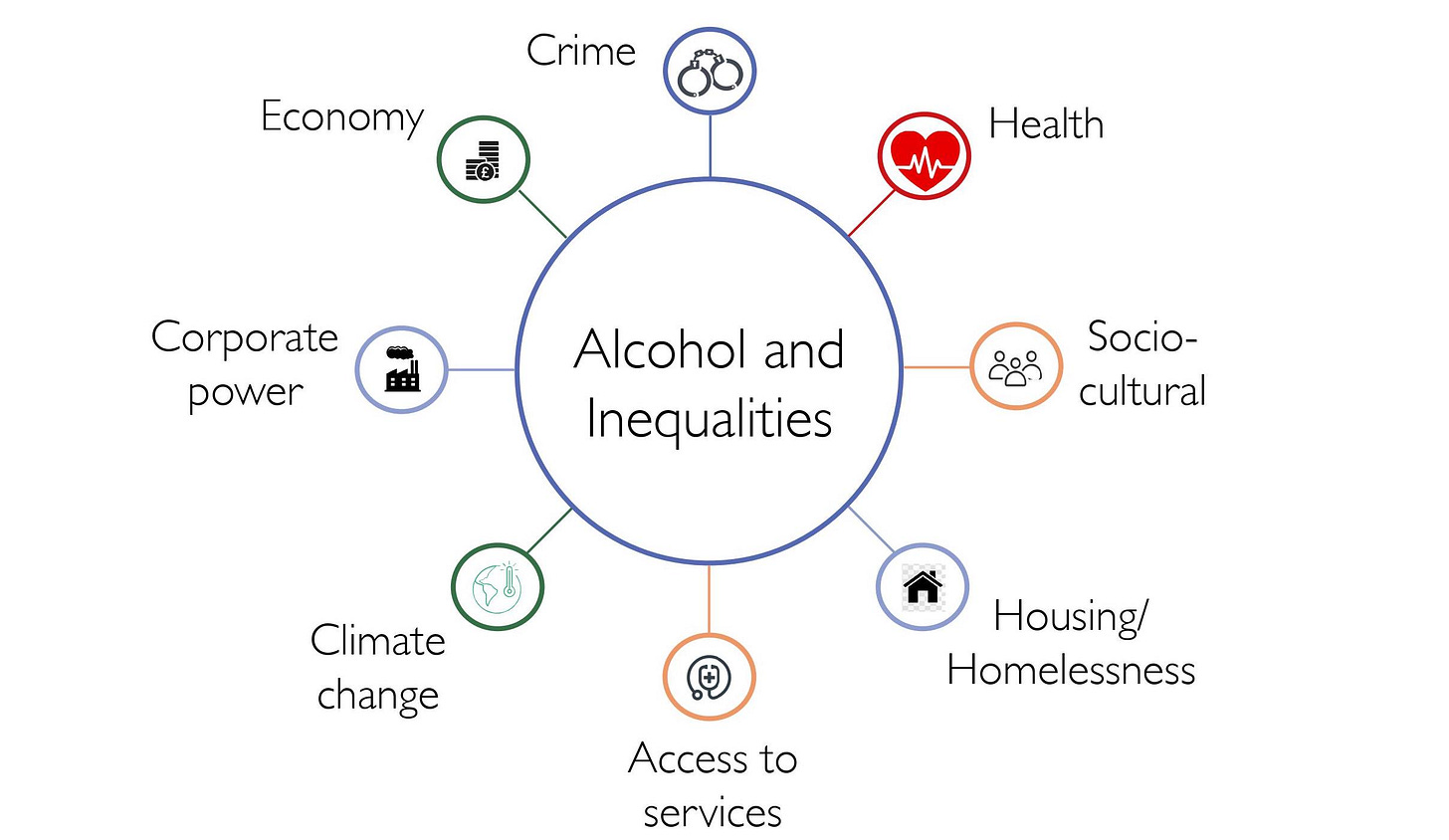 New trade deal is a threat to public health Podcast feature
Dr Courtney McNamara, a lecturer in public health at Newcastle University, also joined our podcast, to discuss her new analysis of the CPTPP trade deal.
The Comprehensive and Progressive Agreement for Trans-Pacific Partnership (CPTPP) is a free trade agreement between 11 countries, mostly Asia Pacific countries. It covers almost all sectors and aspects of free trade between member countries. The UK has recently joined, after US President Joe Biden put a US-UK deal on the backburner.
In Dr McNamara's peer-reviewed analysis in the BMJ, she draws attention to a number of public health threats that joining the partnership could present.
The agreement has a clause that can and has been used to challenge public health policies, including those targeting non-communicable diseases. For instance, CPTPP members have regularly opposed health warnings on alcohol labels. The Investor State Dispute Settlement (ISDS) clause gives special rights for foreign companies to sue governments if they think they have acted in a way that undermines their profit.
As Dr McNamara highlights, not even the World Trade Organization (WTO) – which has been implicated in trying to restrict public health measures – has this sort of power. Only states can initiate proceedings against other member states, not company to state.
The tobacco giant Philip Morris used ISDS to dispute Australia's plain packaging legislation, initially costing the Australian Government $13 million. Although the Government won the case, it only got back half of the fees spent. Dr McNamara fears that not only will future cases cost taxpayer money, they will also have a 'chilling effect' by stopping countries enacting public health measures for fear of expensive litigation.
In addition, the economic benefit of joining the CPTPP is almost negligible. It amounts to only an 0.08% increase in GDP over a 15-year period. "In other analyses of free trade agreements, economists have characterised changes in GDP of this magnitude as 'little more than rounding errors'." One of the reasons for such little economic benefit, is that the UK is already trading with these countries.
Dr McNamara is calling on the Government to develop a health impact assessment, to better understand the health and economic impact of the deal. Labour MP Martyn Day asked DHSC if the department would commit to assessing the deal's threat to public health, to which he received the response:
"We do not plan to debate any of our existing standards. We have some of the strongest standards for control anywhere in the world. We have no plans to get rid of any of those things."
Perhaps more worryingly, a spokesperson from the Department for Business and Trade said:
"The analysis published by the BMJ is false and dangerous and should be immediately disregarded." They also denied that the deal would "hinder our right to regulate in the public interest" and said this was "a right recognised in international law".
Ireland becomes first country in the world to introduce alcohol label health warnings
Ireland has become the first country in the world to sign new regulations which will mandate health warnings on alcohol labels.
Labels will have to display warnings telling consumers about both the risk of drinking when pregnant and the risk of liver disease and fatal cancers from alcohol consumption. They will also have to display calorie content and grams of alcohol.
Health Minister Stephen Donnelly signed the new law on Monday 22 May, although the measures won't be required until May 2026, giving the industry three years to adapt.
Donnelly said:
"I welcome that we are the first country in the world to take this step and introduce comprehensive health labelling of alcohol products. I look forward to other countries following our example."
The chief executive of Alcohol Action Ireland (AAI), Dr Sheila Gilheany, also welcomed the news:
"This measure goes some way to ensuring consumers are informed about some of the risks from alcohol."
In the lead up to the signing, there were a number of industry figures who voiced concern over the measures.
Spirits Europe and The Comité Européen des Entreprises Vins (CEEV) filed complaints with the European Commission, claiming that the proposed rules breach EU law. They called for the Commission to open an 'infringement procedure' against Ireland, arguing that the measures would create a disproportionate trade barrier.
Cormac Healy of Drinks Ireland, kicked out at AAI's statement that the measures are "modest", arguing that Ireland has "some of the strictest legislation in the world for marketing and selling alcohol".
Both Italy and France's ambassadors to Ireland condemned the plan. Although Italy's Ruggero Corrias said that there was "nothing wrong with the warnings", he then stated:
"The point is the warnings should be proportionate and, in this case, since you're talking about wine, saying that drinking alcohol on a bottle of wine causes liver disease is totally disproportionate."
France's Vincent Guerend said that there is a real risk that health warning labels on alcoholic products will mean that small French winemakers will stop selling into the Irish market. He also said the messages planned lack subtlety and nuance, and that Ireland should wait for the EU to legislate for warnings, which apparently it has said it will do by end of year.
Dr Sheila Gilheany responded to much of this criticism in the Financial Times, stating that the alcohol industry "has reacted with some hysteria" and that the European Commission did not object to the measures.
In other Irish news, Professor Thomas Babor – Editor-in-Chief of the Journal of Studies on Alcohol and Drugs and one of the lead authors of the comprehensive book Alcohol: No Ordinary Commodity – warned that the Irish Government's plans to extend licensing hours will lead to more disease, injuries, public disorder and domestic violence.
Professor Babor spoke at an event organised by the Irish Community Action on Alcohol Network, where he said:
"When alcohol consumption becomes the central organising feature, as reflected in the proposed Sale of Alcohol Bill, the social and recreational benefits can come at an enormous cost.

"Many cities in the UK, the EU and Australia have experienced epidemics of public intoxication following policy changes that were intended, just like the Sale of Alcohol Bill, to attract adults and youth to social and cultural events, but succeeded mainly in attracting youth out for a night of heavy drinking."
Babor called for a health impact assessment on the potential effects of the law and a "sunset provision" terminating the bill if it fails to produce economic benefits and reduce alcohol-related harms.
There is also an ongoing debate in Ireland about how the alcohol industry is circumventing new restrictions on alcohol advertising, enshrined in the Public Health (Alcohol) Act 2018, such as with the following example. Alcohol marketing is banned in various public places, as is marketing that bears "the brand name or emblem, the corporate name or emblem, or the trade mark or logo".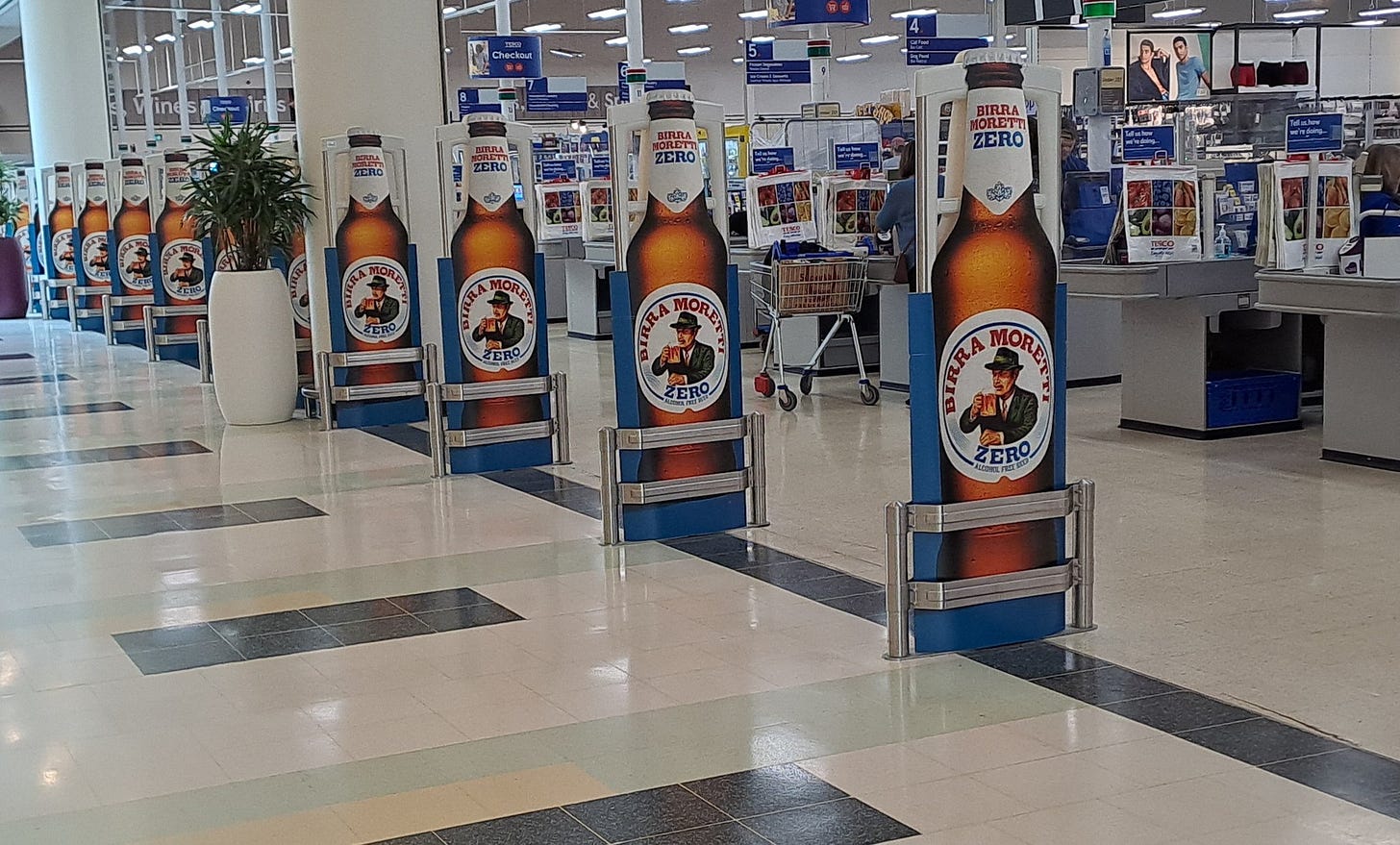 Government is not taking "appalling" harms of alcohol seriously enough
The Public Accounts Committee has released a damning report that says it is "surprised and disappointed" that the Department of Health and Social Care (DHSC) is not taking a more proportionate and serious approach to addressing the problem.
The report – which was developed from a committee session at which Professor Sir Ian Gilmore (AHA), Alice Wiseman (Gateshead Council), and Clare Taylor (Turning Point) gave evidence – highlighted the number of dependent drinkers who aren't in treatment, the alarming rise in deaths from alcohol, and the huge cost of alcohol harm to society.
The Committee says DHSC must secure a consensus and act on the best available evidence on preventative measures around price, availability, and marketing.
Labour MP Dan Carden, one of the lead members of the inquiry, said:
"Today's report lays bare the lack of political will to address alcohol harm. The government's record on alcohol harm is one of policies scrapped and promises broken.

"Shamefully, it has been 11 years since the last Government UK Alcohol Strategy. The measures set out in the 2012 strategy were, and remain, effective evidence-led health policies that prevent death, improve public health and alleviate pressures on our public services. The abject failure to deliver on promised initiatives has certainly contributed to tragic yet preventable levels of alcohol harm felt across the UK."
Dame Meg Hillier MP, the chair of the committee, said:
"The harms from alcohol are appalling and the benefits of every £1 spent on treatment are immediate and obvious. It is linked to over 100 illnesses, mental disorder and suicide and to 42% of violent crime."
The report made a number of recommendations, which included:
A government spokesperson said:
"We've published a 10-year plan for tackling drug and alcohol-related harms and are investing an extra £532m between 2022/23 to 2024/25 to create over 50,000 places in drug and alcohol treatment centres with high-quality care."
Starmer says he would rule out MUP in a cost-of-living crisis
The Labour Party has outlined its health policy, including the intention to focus more on prevention measures and social determinants of health, if it wins the next election. This includes a promise to ban the advertising of junk food before 9pm, as well as vaping ads.
Speaking to the BBC's Laura Kuenssberg, Shadow Health Secretary Wes Streeting avoided answering a question on whether Labour would introduce minimum unit pricing (MUP) of alcohol. Instead he said that the party would come down on the vaping industry like a "ton of bricks".
However, on LBC Nick Ferrari asked Sir Keir Starmer if he would rule out MUP, to which the Labour leader said:
"Yes, we're not going down…we don't want things to cost more for people in a cost-of-living crisis."
The Telegraph criticised the plans as "pure nanny statism" and that "it is clear that its bossy interventionism that constricts personal freedoms and corporate prosperity remains the same".
The Social Market Foundation (SMF) think tank responded to the Labour Party's announcement by stating that the party cannot be deterred by fears of being labelled 'nanny state'; a similar call from ex-Chancellor George Osborne who said in early May that "anti-nanny state Conservatives" are "not worth listening to".
SMF's Research Director Dr Aveek Bhattacharya said:
"Labour's commitments on junk food marketing are encouraging, but the party should also be more open to regulating the availability of unhealthy food and drink, minimum unit pricing of alcohol, and higher taxes."
In related news, a recent paper asked 'Which nanny – the state or industry?', arguing that if government does not prevent dominance, the industry fills the gap, becoming the 'nanny industry'.
Deaths from alcohol continue to climb
BBC Newsnight ran a story on the rise in alcohol-specific deaths seen during the pandemic and reported that deaths continued to rise in England in 2022, by 4% from the year before (skip to 14:00). This would equate to around 300 additional deaths.
The BBC got this data from the Wider Impacts of COVID-19 on Health (WICH) monitoring tool, by the Office for Health Improvement and Disparities. As the following chart shows, alcohol-specific deaths in 2022 were far higher than pre-pandemic figures, and higher than 2021, which had seen the highest number of deaths on record.
Health economist Colin Angus, of the University of Sheffield, said that this is due to increases in deaths from alcohol-related liver disease, and sharp increases in deaths related to alcohol dependence.
Christian Wakeford, Labour MP and Chair of the APPG on Alcohol Harm, highlighted the link between the price of alcohol and levels of harm, and called for alcohol duty to be linked to inflation.
Alcohol Toolkit Study: update
The monthly data collected is from English households and began in March 2014. Each month involves a new representative sample of approximately 1,700 adults aged 16 and over.
See more data on the project website here.
Prevalence of increasing and higher risk drinking (AUDIT-C)
Increasing and higher risk drinking defined as those scoring >4 AUDIT-C. A-C1: Professional to clerical occupation C2-E: Manual occupation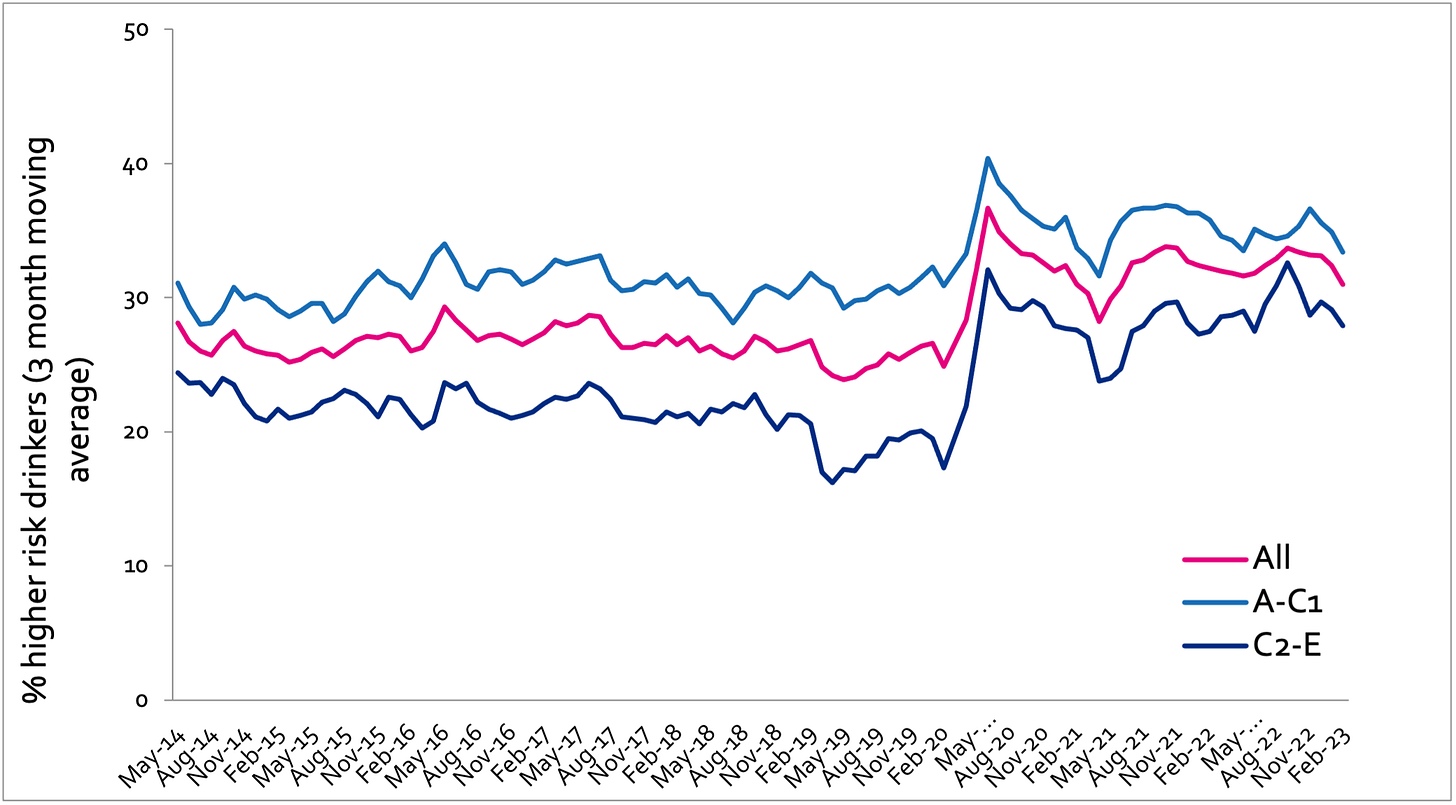 Currently trying to restrict consumption
A-C1: Professional to clerical occupation C2-E: Manual occupation; Question: Are you currently trying to restrict your alcohol consumption e.g. by drinking less, choosing lower strength alcohol or using smaller glasses? Are you currently trying to restrict your alcohol consumption e.g. by drinking less, choosing lower strength alcohol or using smaller glasses?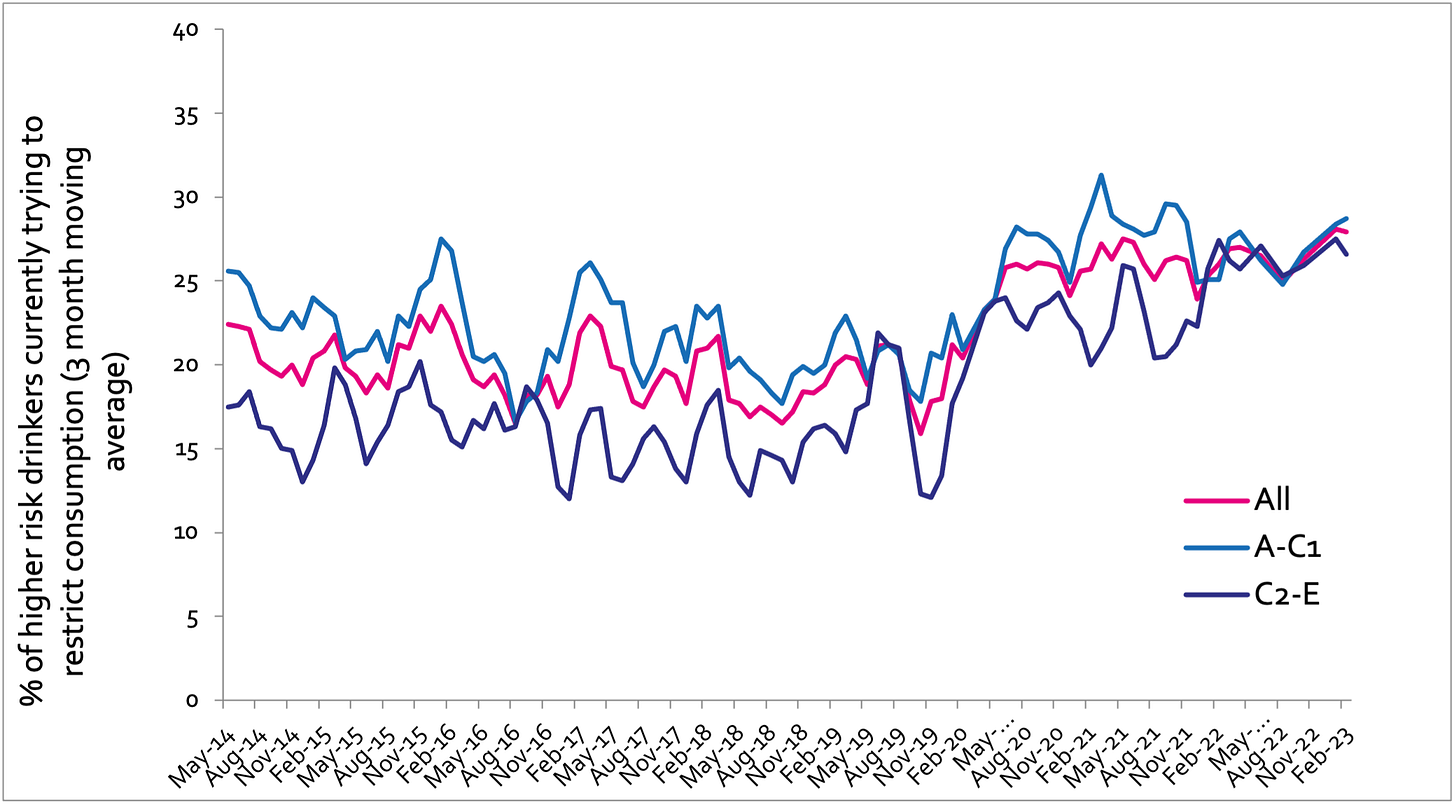 Serious past-year attempts to cut down or stop
Question 1: How many attempts to restrict your alcohol consumption have you made in the last 12 months (e.g. by drinking less, choosing lower strength alcohol or using smaller glasses)? Please include all attempts you have made in the last 12 months, whether or not they were successful, AND any attempt that you are currently making. Q2: During your most recent attempt to restrict your alcohol consumption, was it a serious attempt to cut down on your drinking permanently? A-C1: Professional to clerical occupation C2-E: Manual occupation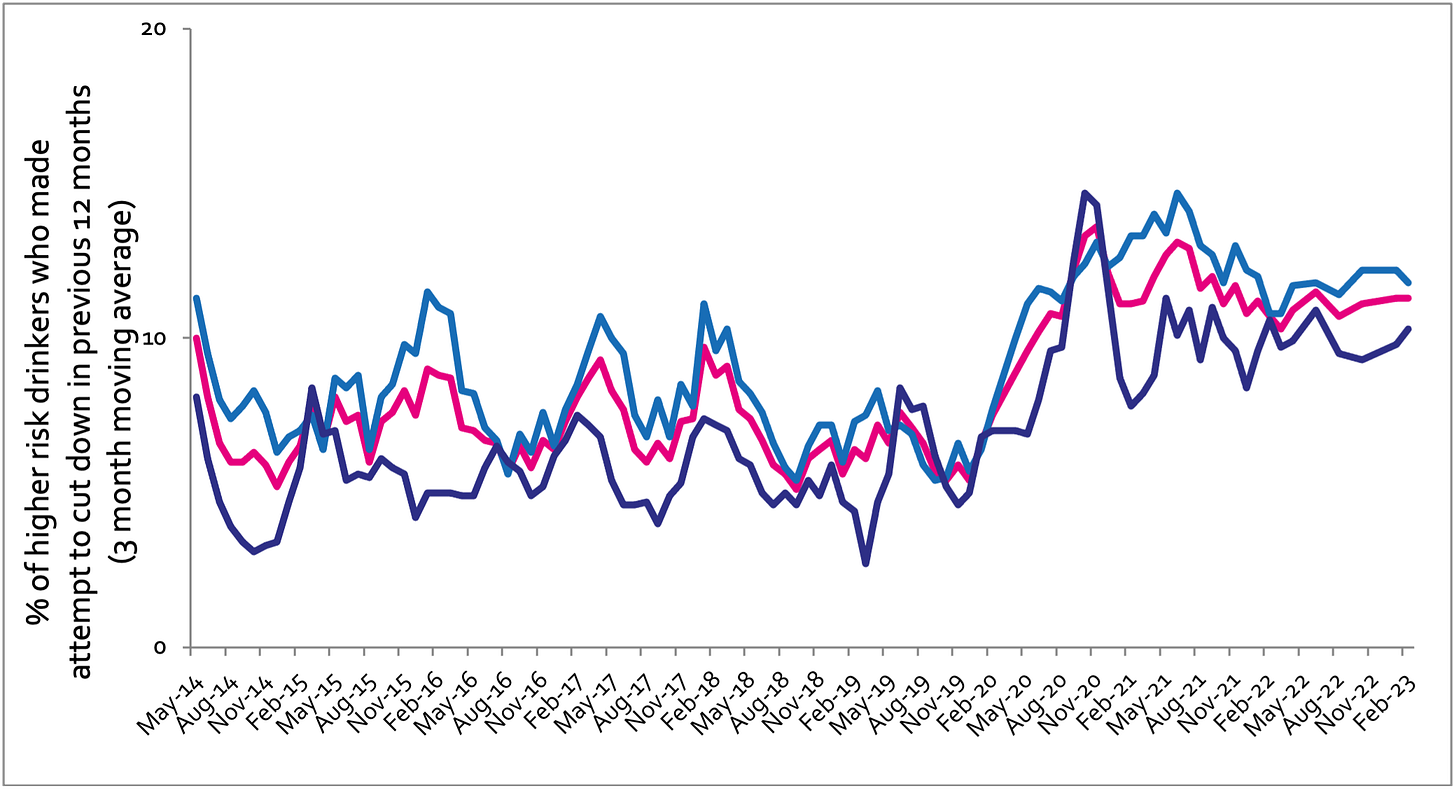 Podcast
Our monthly podcast features interviews with experts from across the sector.
Dr Aalaa Jawad – Public Health Registrar
Susan Taylor – Head of Alcohol Policy, Balance